I just came across a neat Linky Party...and I'm always on the lookout for good Linky Parties because you end up finding some great new resources and discover some awesome creative teachers!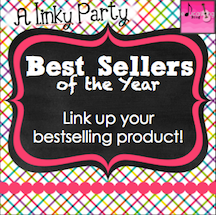 Teachers are posting their best selling products, "Whether it was a product that was surprisingly successful or expected to be so, let know what worked well for you."
I'm going to share my Readers' Theater Partner Plays, Pack #1. We started using AIMSWeb this year and it was all about FLUENCY. I love to do Readers' Theater with my whole class but was looking for something that 2 kids could do during our Daily 5 time....thus was born Partner Plays.
But since some of my reading groups have an odd number, I wrote each play for either partners OR trios. I think many things factored into 17 of my 21 kiddos achieving fluency proficiency (54 words correct per minute), but I know these plays and all the others I've written helped A LOT! Not only did their pace increase, but their expression bloomed!! Okay, enough tooting my own horn, go check out all the great resources over on Sarah's blog.